Deep Water Management Limited will formally launch its Hong Kong business in April 2016.
In the meantime, we are almost done crossing T's and dotting I's.
Financial markets started 2016 in an interesting way (to put it nicely).  Banks and funds have a lot of work ahead of them.
Hang in there…  We will be there to help put out the fires soon!*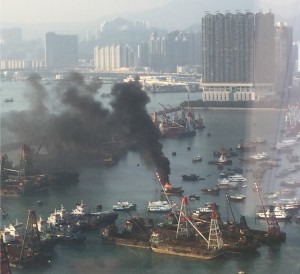 *Note: I photographed this fire last year.  To be clear: We only want to help you with figurative fires.  Actual fires look too dangerous.  We aren't trained for that sort of thing.  HK firefighters are.**  
**HK firefighters are also good at dragon boating.  That is something I can do well.  Pretty sure that factual tidbit is not interesting to most of you.