Healthy Serving of Fresh Capital
The Client: Yomee is about to revolutionize yogurt.  The company offers fresher and better yogurt than you can get in any retail store.  It's cheaper, too.  You make it right on your counter top.  Pop in a pod, pour in your milk, and come back in 6 hours to enjoy your yogurt.  No rush; it will stay cold all day. 
Don't take my word for it, see for yourself:
Yomee has done right things so far: The technology works, patents have been filed, prototypes make delicious yogurt, excellent suppliers / manufacturers / JV partners have been locked in, and high-volume production starts soon.  The seed funding round was successful and pre-orders have been meeting projections.  Yomee has been featured on a wide array websites, news outlets and social media
Yomee's founder is an experienced technologist, with substantial startup experience and previous IT experience at Goldman Sachs.  The management team also has officers from Goldman Sachs and Adobe Systems, with a network of advisers in food, retail, strategy, operations, and other key areas.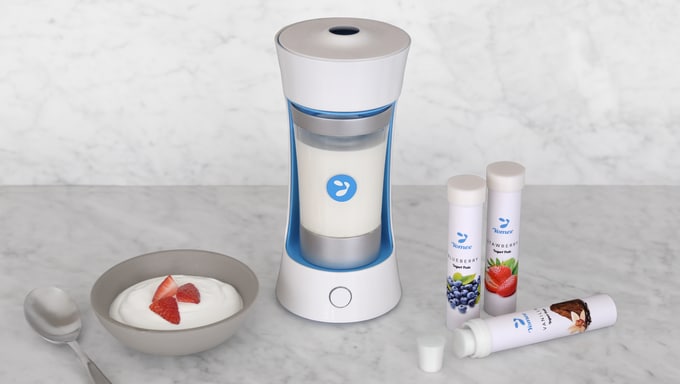 The Challenge:  Additional funding is needed to finance full scale production.  Yomee's previous fundraising efforts exhausted the supply of true believers, technologists, and early adopters.  Later funding must be sourced from demanding financial investors. This new investor pool is broader, though much harder to convince:  "Show me the money!"
Deep Water Management built detailed financial projections for Yomee. This model served several purposes, starting with forecast of monthly "cash burn" and a timeline of future capital requirements with granular details on how the new cash would be used.  The model also provided transparency around the firm's launch economics and established evidence of sound financial control for prospective investors due diligence.  
A complete financial model goes hand-in-glove with a comprehensive business plan.  Deep Water Management developed a business plan document reflecting the massive progress and drastic changes since the previous plan was drafted while the nascent firm was still in an "accelerator" program a year earlier.
Deep Water Management also worked with Yomee management to flesh out the presentation materials and structure the key talking points for "the pitch".  The "script" now covers financial returns, valuation methodologies, and key investor concerns such as dilution, exit strategies, risks & mitigants, and key differentiation points relative to competitor products.  Yomee now has a digital "data room" to satisfy due diligence requirements of the most demanding institutional investors.
Yomee is well on its way to a hugely successful launch.  Revolution isn't easy, but it's fresh, healthy and delicious!
Full disclosure: Steve Stanton & his wife have an equity investment in Yomee.